8 graafilise disaini suundumusi 2017. aastal
Tänavune disain on ajendatud disainer mässu liiga puhas, täiesti valge ja peaaegu liiga täiuslik esteetika, tehniliste tööstuse Titans on aktiivselt kasutatud viimastel aastatel. Nüüd näeme, et disain on võimalik ka täiesti uus lähenemine. Ja see on intensiivne, uuenduslikke ja ilus.
1. Louder and Brighter Colors
Now, in 2017, there will be a shift away from neutral colors like whites, grays and black, to bolder and brighter colors.
Just because many companies will be ditching their boring color schemes in 2017 doesn't mean there needs to be a color revolution in your company. Some companies will be adding just a bit of color, and it will make all the difference.
Using bold color accents will also help many brands cling to their minimalist roots. By infusing bright colors with traditional neutral backgrounds, companies can give their branding a fresh new look without straying too far from what made them great.
For example, we already saw this type of redesign from Instagram a few months ago.
---
2. BOLD Typography
In 2017, bold typography will also fight against the ever-dwindling attention spans of readers, and the saturation of content. Big and daring fonts will be used to grab the eye.
The shift to mobile and extremely high definition screens will also increase the need for bold fonts. Obviously, more and more people will be using their phones to get content, and the way that content is presented will need to keep up.
---
3. Google Fonts
Google Fonts are so versatile.
Most of these 810 different fonts are free to use, people like free. And they like things that are insanely easy to use.
If you need to design one thing online and then add it to your slide deck, you are confident the fonts will work together. And they play nice with about every blog or site you could build.
---
4. Authentic Photos
As the amount of content created each year continues to increase, the need for quality images has increased as well. And to maximize the shelf life of some of these images, the creators have had to make them as generic as possible. The only problem is that the best generic images get overused by everyone. The need for clean and perfect images in everything has only exasperated the problem as well.
As reader seeing this image for the hundredth time, I would think that the writer or creator does not care about making their work original. So why should I read it? That is why you need to start using authentic, original images that represent your brand. Stop using the most popular images and start making some of your own.
---
5. Hand-Drawn Graphics and Icons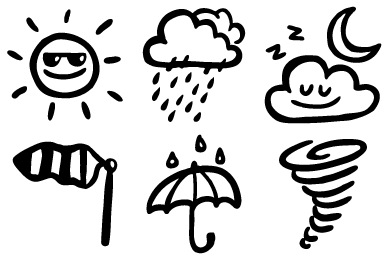 The need for more authentic images will also influence icons and graphics. Recently we have seen brands embrace this wholeheartedly as they look to differentiate themselves from the pack. This will also add a personal or fun element back into your design or content work. And this can't be done with off-the-shelf icons or graphics. It will definitely help you stand out online.
Like many of the trends in 2017, this is a push back on the clean and almost clinical nature of design in recent years.
---
6. Minimalism Will Get Back To Its Roots
It seems that the true spirit of minimalism – pared down, functional design elements – has been lost and, instead, replaced with boring black and white color schemes.
In 2017, that will all change. This is the year that minimalism, hopefully, gets its groove back. And that involves using a lot more color. Mobile devices are now just as powerful as computers and some even have better screens. The simple design clearly communicates the message of the graphic.
Minimalist-influenced designs would have to be Medium's logo. They were able to include a bunch of different colors but still create a very minimalist logo.
---
7. Useful GIFs
Everyone loves GIFs. They are the perfect little conversation helper that expresses emotion when text won't do the trick. Plus, they do not require any special software to run, usually have a small file size, and can be embedded just about anywhere.
So they are better than videos and images, in most cases when loading time or data usage needs to be minimized. And I think that versatility is what will make them even better and more useful in 2017.
It does not have to be a work of art, but it definitely will draw attention to your post when shared on social media.
---
8. Duotone
Duotones are simply the combining of two colors on an image, usually using very bright or contrasting colors. They require a bit of design work but it is most definitely worth it.
Only a skilled designer can really create an amazing duotone. It is honestly past my skill level but that does not mean you should not include it in your 2017 design plans!
This bold use of contrasting color will also bring some originality into your design. And hopefully make it pop on the white backgrounds of the many social media sites.